Executes a task when the computer has been idle for a specified period of time.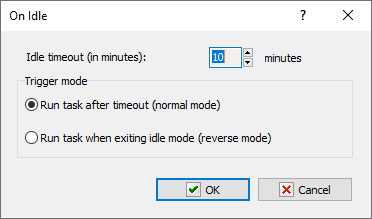 Idle timeout in minutes
Enter the time that you want in minutes.
Trigger mode
Run task after timeout - normal mode;
Run task when exiting idle mode - the trigger is activated after the specified timeout and fires when the keyboard or mouse is touched.

Related Topics
On Local/Remote Session Changes
WebSocket Server On HTTP Request