Executes a task at the interval in seconds that you specify. This is useful if you want to repeat a series of actions at a specific interval. For example, you can ping your web site every two minutes or check for new e-mails every five minutes.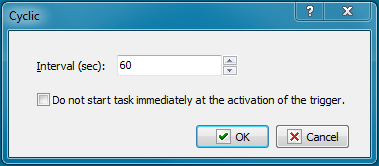 Interval (Sec)
Enter the number of seconds that you want the task or actions to wait between loops.
Do not start immediately at the activation of the trigger
By default Cyclic trigger starts the task immediately when the trigger is being started. switch ON this checkbox if you want to prohibit the first running of the task. In most cases this doesn't matter, but may be helpful sometimes.

Related Topics
On Local/Remote Session Changes
WebSocket Server On HTTP Request