The trigger is activated when the power is switched to battery. Naturally, this trigger makes sense, if the computer has standby power supply from the recharging battery. For example: laptop or computer connected to the Smart UPS.
If you try to activate the trigger on a computer without a battery, the trigger will display the "This computer has no battery" warning in the RoboTask system log. In this case the trigger will not work.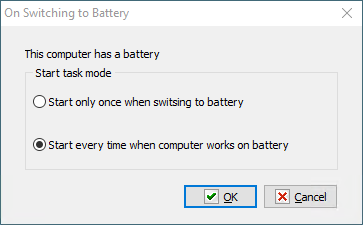 Start Task Mode
Two trigger modes are possible:
•Start only once when switching to battery – the trigger is activated once when switching to the battery.
•Start every time when computer works on battery - the trigger is activated when switching to the battery. Then the trigger is activated intermittently about once a minute when on battery power

Related Topics
On Local/Remote Session Changes
WebSocket Server On HTTP Request