This action is necessary to read a text file with plain text, but with a code page different from the system one. If the code page is different from the system page, then additional text conversion is required for correctness. In addition, the text can contain null-characters, which "breaks" the text.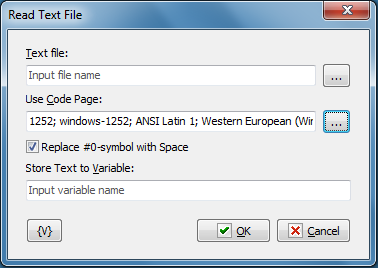 Text file
Specify the name of text file to read.
Use Code page
Choose the codepage of the text. By default this parameters equals to system code page.
Replace #0-symbol with Space
Switch on this checkbox if you want to replace all #0 symbols in the text with spaces
Store Text to Variable
Enter the name of the variable in which you want to save the text.

Related Topics