The action enables to get message flags according to their ordinal number and save them into a variable. The message flags are saved as a line. Each letter corresponds to existence of the flag of the message.
•A - Answered
•F - Flagged
•D - Deleted
•S - Seen
•T - Draft
•R - Recent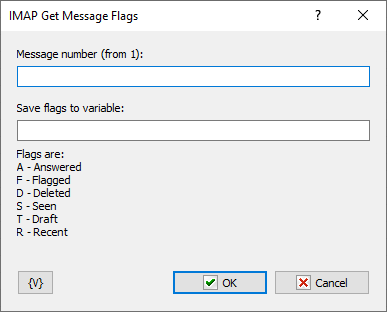 Order Number of the Message
An order number of a message. This number can be got in a cycle or specified explicitly. Numbers of messages begin from number 1.
Save Flags to Variable
Specify the name of the variable into which it is necessary to save message flags.

Related Topics