The action permits to converse a text from Unicode to the UTF-8 and vice-versa. The RoboTask contains the variables UTF8Decode and UTF8Encode permitting to do such conversions for small lines. But, unfortunately, some problems can appear when trying to converse a big text. The text can contain the symbols breaking the variable syntax. This action permits to avoid such problems.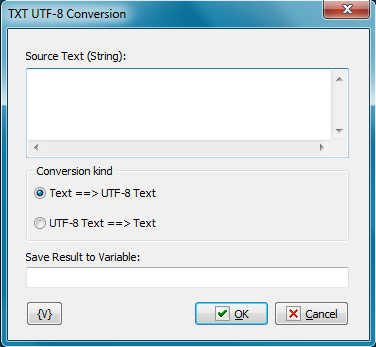 Source Text (string)
The source text. You can specify as a text or a string explicitly or with using variables.
Conversion kind
The direction of conversion
•Text ==> UTF-8 Text
•UTF-8 Text ==> Text
Save Result to Variable
Specify the name of user's variable in which you need to save the result.

Related Topics