This action serves for imitation of retention of Shift-keys in pressed condition or in forced release. Shift-keys are used in various combinations: Shift, Ctrl, Alt, Win-key. Some programs use complex combinations.
For example:
•when Ctrl is pressed, push K and C sequentially
•pressing Left Button of a mouse when Ctrl and Alt are held down
The action "Send Keystrokes" can't ensure imitation such combinations.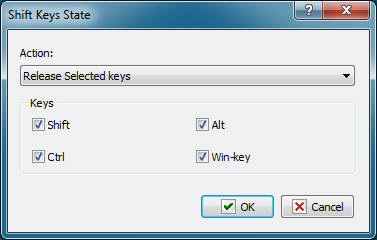 Action
Select a necessary action:
•Release selected keys – forced release of specified keys.
•Hold down selected keys – pressing of specified keys and holding them in pressed condition, until you see the action Release of Keys. Please note that all Shift-keys will be released, if you switch on the parameter "Forced release of Shift-keys" when Send Keystrokes are in use.
Keys
Mark necessary keys in any combination.

Related Topics