You can save image form system clipboard to file. Of course this is possible when the clipboard contains some image. Otherwise the action raises the error "Clipboard doesn't contain an image"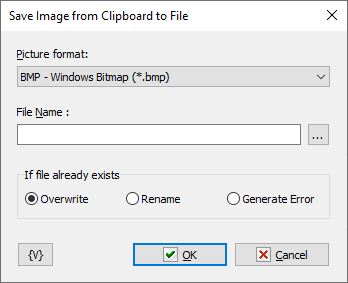 Picture format
There are four formats available:
•BMP – standard Windows bitmap;
•Jpeg – Joint Photographic Experts Group format;
•PNG – portable network graphics format
•GIF – Graphics Interchange Format
File name
Input the file name where you want to save the image. Variables are allowed.
If file already exists
The action if file already exists.

Related Topics