The Choose Dialog is necessary to select one value of several alternatives. The action saves the number of chosen alternative (beginning from 1) into a variable. Then it is possible to do actions according to a choice.
If a user rejects a choice (that is, the button Cancel is pressed), the value of the choice is 0.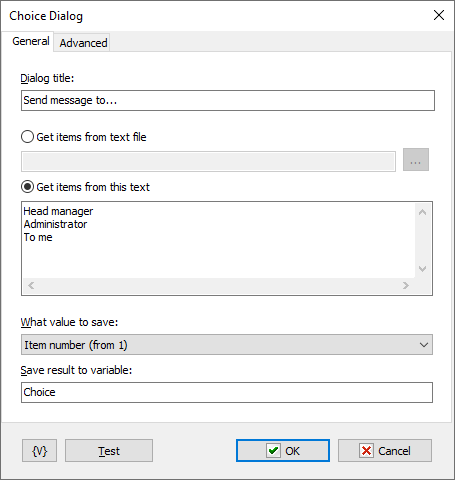 Dialog Title
Specify a title for a choice menu.
Items
A list of menu items for a choice. The list can be edited with buttons Add, Edit, Delete.
Also it is possible to change the order of options using buttons Move Up and Move Down.
Save Selected Item Number to Variable
Specify the name of a variable into which is necessary to save the choice result. If one of items is chosen, the number of the item will be saved beginning from 1.
If the button Cancel is pressed, then 0 will be saved.

Related Topics