Checks to see if a window exists or is active. For example, you might want to create a task that starts your HotSync Manager for your Palm PDA every day and synchronizes the Palm device data with Outlook. You might want to check for the existence of the HotSync Manager window to ensure that it has started.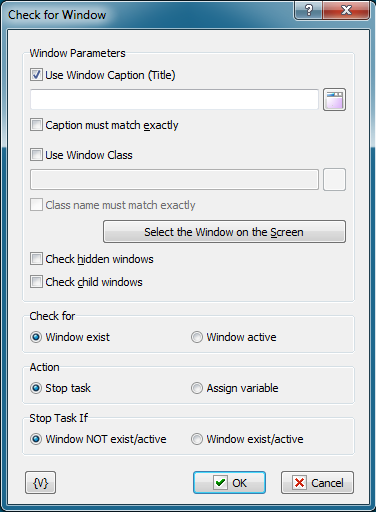 Window Caption
Select the name of the window from the dropdown list. The contents of this list vary with the applications currently launched on your computer.
Caption Must Match Exactly
Click the check box to check only windows that match the entire window caption. If this check box is clear, the action checks for windows that partially match the caption.
Check For
Select one of the following options to check for existing windows or windows that are open.
Abort Task If
Stops task executing according with selected option:
•

Window Not Exists/Active -

stops the task if the window does not exist or is not active.
•

Window Exist/Active -

stops the task if the window exists or is active.

Related Topics